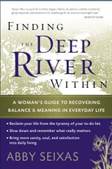 Remember I promised you a surprise?
I'm so excited to share this wonderful conversation I had with Abby Seixas, who is the author of the book Finding the Deep River Within: A Woman's Guide to Recovering Balance and Meaning in Everyday Life.
This topic is particularly important during our current Sovereign Soul Sanctuary focus on making time for our Sovereign Souls, as Abby and I discuss the importance of slowing down for a different way of relating to time.

Abby has been generous enough to offer two downloadable worksheets to help you implement the material in the book. She's included a worksheet to help set up what she calls "time-ins" and anther to support you in setting boundaries:
Taking Time to Take Time-In Worksheet
Pick up a copy of Abby's Kindle book on Amazon here:
On Kindle by Abbey Seixas for $9.99*
You can find out more about Abby and her work on her website here:   http://deepriverwithin.com.
You can also Like her Facebook page here: https://www.facebook.com/DeepRiverWithin
*In the spirit of full disclosure, with some products and services that I recommend, I may receive a commission if you decide to purchase them using the links that I have provided. I only recommend products & services that I trust and love, so I know you'll be in good hands!