A Spiritual-but-Not-Religious Woman's Guide
to Living a Soul-Centered Life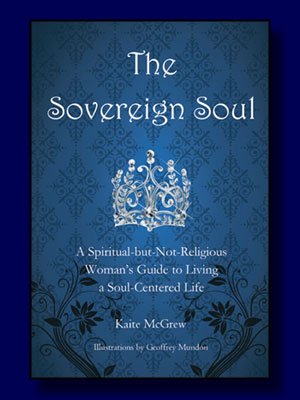 Independently spiritual women can often feel alone in their "religions of one," without the structure to support spiritual growth, or the foundation that faith needs to flourish. Without the support of organized religion, it can be hard to make time, create space, cultivate tradition, or build community so faith can deepen. The Sovereign Soul: A Spiritual-But-Not-Religious Woman's Guide to Living a Soul-Centered Life speaks to those challenges and walks the independently spiritual woman through the process of re-discovering her unique relationship with her Sovereign Soul, and then building her life around that relationship.
With a step-by-step system of practical solutions, exercises and activities, the book explores ways to:
Discover and serve your Sovereign Soul's mission with great satisfaction and joy
Create a successful and reliable spiritual practice – one that you can count on
Identify what you really need and then meet those needs in soulful ways
Transform your physical space with divinely-inspired, Soul-welcoming changes
Release barriers to your Soul-centered life peacefully and with ease
Experience your relationship to time in a way that is satisfying and meaningful
Discover and build your spiritual tribe for community, support and inspiration
Part guidebook, part love story, The Sovereign Soul: A Spiritual-But-Not-Religious Woman's Guide to Living a Soul-Centered Life is for all smart, soulful women who long to know themselves deeply but have not yet figured out how to shape a life that supports that. If you have been unable yet to collect energy around your spiritual journey, to bring that journey to the forefront of your life – if you think you have to choose between an organized religion and a hit-or-miss, back-burner kind of faith, then this book was written for you. Isn't it time to put your relationship with your Sovereign Soul first for a change, and call on the most powerful, present, loving part of you for a rich and meaningful life?
---
Praise for The Sovereign Soul
"One of my life's opportunities (otherwise known as a sharp stick in the spiritual eye) is to become more sovereign, to belong more to myself, to trust myself more. I was so delighted to read Kaite's fresh and tantalizing take on bringing more faith and self-trust into my soul life. I highly recommend this book."
Jennifer Louden, author of The Woman's Comfort Book and The Life Organizer, www.jenniferlouden.com
"A wonderful book for anyone who has tried to 'go it alone' spiritually – this book will keep you company, lift your spirits and make you laugh."
Victoria Moran, author of Creating a Charmed Life
"Kaite McGrew has crafted a gorgeous and important work in Sovereign Soul by providing an understanding and experience of spirituality that is larger and more vast than we are and simultaneously large and vast within. Most of us veer toward one or the other. We need both. And it is to this that she writes, calls, and compels. A blending of deeply powerful prose and practical application, Kaite offers our souls what they most long for and deeply need. Listen to her and in the process, hear your own sovereign soul speak."
Ronna Detrick, M.Div., Writer & Spiritual Director, www.ronnadetrick.com
---
Excerpt from Sovereign Soul
Chapter One – A Letter from Your Sovereign Soul
Dear Beloved Seeker,
There is so much that I want to show you, that I want to share with you. I have been waiting a long time for you to invite me into your life. More than anything I want to support, inspire and guide you as you grow into the beautiful being that you came here to be. You are wonderful and you have always been wonderful. I can see where you have been and my greatest joy is to be with you as you fulfill your promise in this life.
There are some things that you can pay attention to, some things that you can do to make your journey easier and your connection with me stronger. If you give each of these elements your attention and your energy, if you apply these concepts to the living of your life, then you will be creating the most ideal opportunities for me to support you and to accompany you on your journey.
In return I promise to enrich your life on every level and in ways that you could never have imagined. I promise to inspire and delight you as often as you will let me and I promise to comfort and guide you when you feel lost or disconnected. I love you unconditionally, as God loves you, because I am the part of you that has never left God, the Divinity that resides within you.
Every love you have known – the love of a child, a parent, a spouse, a pet, a dear friend – every one of these loves is but a fragment of the love that I hold for you. Each one is just a taste of what the fullness of unconditional love is from my vantage point. It is almost impossible for you to fully experience the breadth and depth of my love for you from your human space/time experience. Instead you will be given opportunities to experience more and more aspects of this love as you prepare your heart to receive it. You will begin to see it everywhere, and you will recognize it in the love you experience from elements of your life – human and non-human, even aspects of nature that surround you. You will begin to feel my love and God's love more and more frequently from more and more sources as you begin to allow me into your life.
This is the sole purpose of my presence in your life – to allow you to meet the world with and through your own Divinity. The more you allow me expression in your life, the more you receive my presence into your heart, the more able you are to meet life from these higher aspects, and to bless the world in so doing.
There are some things that you can do to make this happen more fully and more quickly. Each of these things will create greater and greater conditions and opportunities for me to express myself in your life and for you to receive me in your heart. Each of these things will open the door just a little bit more to the Divinity within you and your ability to access it fully and to share it.
I know that you sometimes feel alone with your faith, and that you sometimes lose your way because you believe yourself to be on your own, but you are not. I am always here. I am always with you. I surround you with my love at all times. I am always here to serve you and protect you and guide you. The more you come to know me, the more you will learn to trust me and to trust your connection with me. Over time you will find that building that connection, strengthening our bond, will become central in your life and will inform your choices every day. I will become your primary relationship, and all other relationships will be enriched because of ours. The more you love me, the more I will be able to lift and support all of the loves in your life.
Until then, there are some things that you can do to strengthen that connection and deepen your ability to experience my presence in your life…
---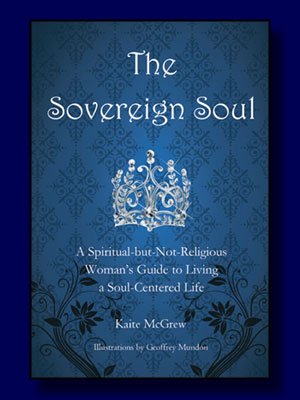 The Sovereign Soul: A Spiritual-but-not-Religious Woman's Guide to Living a Soul-Centered Life is available now!
Sign up for the Sacred Life newsletter and get FREE access to the Sovereign Soul Supplemental Library: