So, I've been a tad bit lax with the blog posts of late and you may have been wondering just what I've been up to!
I thought I would check in and update you all on my recent adventures and projects!
I've begun my next book, which is turning out to be quite an adventure in and of itself and you can look forward to lots of excerpts and updates here on my progress.
As always, this book is being co-written with Spirit, so it has been an exhilarating ride so far. Just when I think  I have a handle on it, it morphs and deepens again, and I just do my best to hang on and enjoy the ride.
The book itself is about grounding practices for energetically sensitive people, but it's actually turning out to be about so much more than that sounds like at first glance.
I'll keep you posted, but suffice it to say, there's a lot more to it than you might imagine, and I think what was supposed to be a nice, simple book on grounding is really turning out to be quite life changing! More on that later.
I've also begun to offer individual coaching programs, and you can read more about the different coaching focus paths here. If you want to know more about working with me, and what to expect, you can read about that here, and email me to set up a discovery session.
And, guided by my ever-increasing passion for animal rights advocacy, I've made two very important decisions.
The first is that I will be donating 10% of all profits from all Alchemy Coaching programs and services to organizations that promote and protect animal rights.
The second is that I am adding coaching products and services designed specifically to work with people who are working to promote and protect animal rights.
I'll be launching the first of these programs later this year, but you can read more about it here if you want to find out more right now!
At the moment I am only working with groups, but I plan to incorporate an Active Hope for Animals focus path into my individual coaching services as well!
I'll be at the Animal Rights 2014 National Conference this month to kick this off, so I'll keep you posted as things develop!
Other than that, I've been enjoying a really beautiful summer here – lots of beach days, and creek days and evening walks by the lake. Apparently we are having a "bodies of water" theme this year!
I've been experimenting with some miniature natural art in the style of Andy Goldsworthy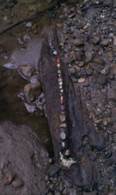 (if you don't know who that is, check out the Rivers and Tides movie). I posted some pictures of one of my tiny creations here just for fun!
We have six new Mallard ducklings at the lake, and they are flying now, which is rather exciting since I've been watching them since they were tiny yellow fuzzballs.  Honestly, I knew ducklings were darling, but I had no idea just HOW darling they were! It's ridiculous!
Anyway, that's the most recent news here at Alchemy Coaching!
I'll try to post some pictures of the ducklings later if I can get them off  my phone.
the pictures. not the ducklings.
the ducklings hardly ever use my phone.
now, the crows are another story.