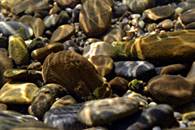 We are so excited to be launching our monthly Touchstones series for all Sovereign Soul Sanctuary* members!
Touchstones will be a monthly series of emails that will offer small "touchstones" – sometimes a quote, sometimes an image, sometimes an excerpt from the book, sometimes an audio visualization, sometimes a simple exercise – just little reminders to keep you connected to the monthly theme and offer you an opportunity to engage with it actively!
Each touchstone will also be posted on the private Facebook community page for you to interact with other members of the group and further activate your energy around the monthly Theme.
We thought it would be perfect to launch this new feature in June, the month where we look at Consistency and how that shows up for us in our spiritual practice. Touchstones will simply reach out to you on a consistent basis to bring your attention back to the theme, and support consistency in your own practice!
*Touchstones are a new feature for all Sovereign Soul Sanctuary Members! To learn more about how to join the Sovereign Soul Sanctuary, please visit www.sovereignsoul.org!