I'm so happy to share that the Alexandria II Book Store in Pasadena, CA will be hosting my next author event for The Sovereign Soul: A Spiritual-but-Not-Religious Woman's Guide to Living a Soul-Centered Life.
Alexandria II is a lovely little new age bookstore that has been in business in Pasadena for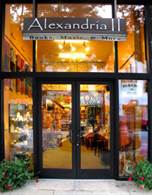 28 years! I'll be giving a talk and reading a bit from the book, and there will be some little goodies for folks who attend in person, and a door prize raffle, so it should be a fun afternoon!
If you are in the LA area the first weekend of August, please come out and join us!  I'd love to see you there!
Sunday, August 4, 2013 at 3:00 PM
Alexandria II Bookstore
170 S. Lake Ave, Pasadena, CA 91101,
(626) 792-7885